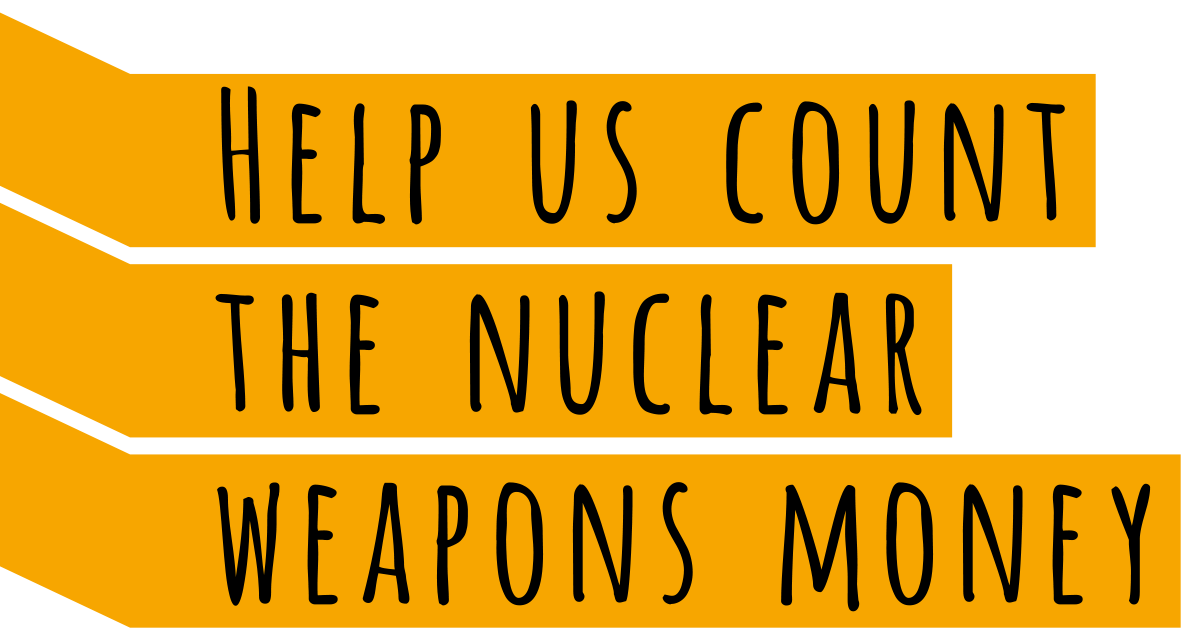 Join us to Count the Nuclear Weapons Money, New York: October 24-30 2019.
One trillion dollars
is being spent to modernize the nuclear arsenals of nine countries over the next 10 years.
We're showing the scale
of this investment and how it could be devoted to peace and humanitarian needs, rather than the threat of nuclear annihilation
while governments meet at the United Nations
for United Nations Disarmament Week and the UN General Assembly, Oct 24-30, 2019.
We're counting the money by hand
$100 million per minute in $1million dollar notes, and symbolically re-allocating these to climate protection, poverty alleviation and the UN Sustainable Development Goals. Counting is taking 7 days and nights.
You can help!
Count the nuclear weapons money for ten minutes, half an hour or more, and decide where you would like this money to be invested instead of nuclear weapons.
Counting at the 'Hub'
The main counting takes place at the Count the Nuclear Weapons Money Hub, 504 West 22nd Street at 10th Ave, Chelsea, New York City. Counting starts on Thursday Oct 24 at 1pm and continues until Wednesday Oct 30 at 7pm. Join us there at any time.
Other countings
are taking place in London (UK), New Mexico, Philadelphia and Wellington (New Zealand).  There will also be short countings at other locations in Manhattan. Click here for details.
The event is being streamed online
with videos of those counting the money and short interviews, so that you can follow the counting even if you can't join us in New York or at one of the other locations. Click here for videos (posted on Youtube). Click here for photos, blogs etc (posted on Facebook).
Artist-designed banknotes will include: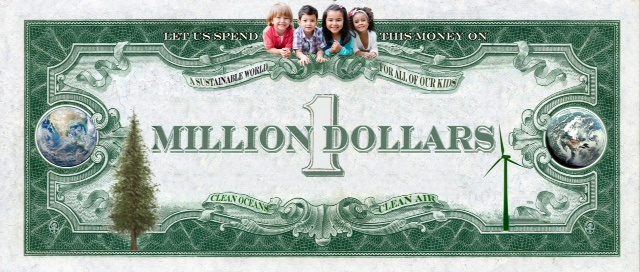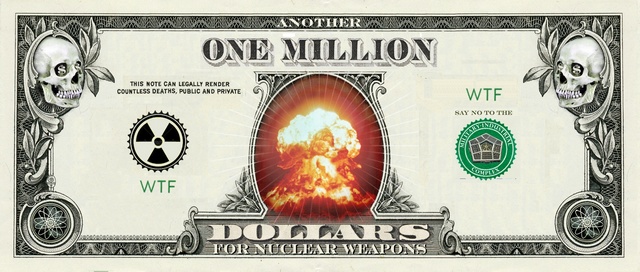 CONTACT: info@nuclearweaponsmoney.org
PROJECT DIRECTORS: Alyn Ware, Susanna Choe and Christopher Salata
PROJECT CONCEIVED BY: Holger Güssefeld, World Future Council
Count the Nuclear Weapons Money is an initiative of the World Future Council (Germany) and Peace Accelerators (USA), a NYC based 501(c)3 non profit and 21st century peace movement of ethical futurists dedicated to co-creating solutions by harmonizing people, planet and technology.

Count the Nuclear Weapons Money thanks Frank Otto and Ben Cohen for their financial support.