During United Nations Disarmament week (Oct 24-30, 2019), citizens of New Mexico (USA) will visit some of the facilities and administrative centers in their state that are involved in the nuclear weapons industry, and will count out nearly $13 billion in mock money.  This is roughly the amount of money proposed for investment over the next ten years for expanded plutonium pit production at Los Alamos National Laboratory (LANL) in New Mexico.
The State hosts a number of nuclear weapons facilities including LANL in Los Alamos which undertakes nuclear weapons research, design, and development; Sandia National Laboratory (SNL) in Albuquerque which undertakes systems engineering of nuclear weapons and research, design, and development of non-nuclear components of nuclear weapons; and the Waste Isolation Pilot Plant (WIPP) where plutonium-contaminated wastes generated by the nuclear weapons complex are disposed. New Mexico is also the State where the first nuclear weapons test was undertaken – at the Trinity Test Site on July 16, 1945 – near Socorro.
The citizens will count the money in 13,000 mock bills of one million dollar face value, and symbolically reallocate this to peace, climate protection, poverty alleviation and sustainable development.
The action will highlight, in particular, the connections between nuclear disarmament and reversing climate change. 'Many Americans and especially climate protectors are starting to make the cause and effect connection of the corporate military-industrial complex to climate destruction,' says Suzie Schwartz, representing Taosenos for Peaceful and Sustainable Futures. 'Billions of taxpayer money are being directed toward nuclear armaments that could instead be reallocated to climate protection, just transitions, and sustainable development goals rather than the threat of nuclear annihilation.'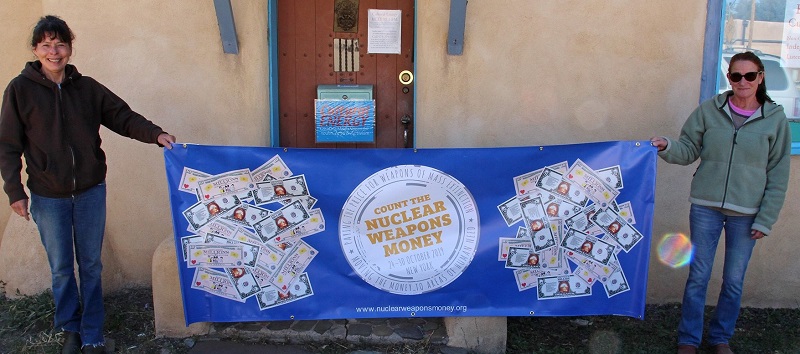 Sheri Kotowski and Suzie Schwartz with banner outside the Cultural Energy Radio Studio after being interviewed about Count the Nuclear Weapons Money.
Concerned Citizens for Nuclear Safety (CCNS) who are organizing the action, are being joined in the money counting action by climate activists including from Youth United for Climate Crisis Action (YUCCA). 'While all members of the human species are under threat from the constantly growing danger of the climate crisis, our government is using their money and resources to make weapons,' says Artemisio Romero y Carver, YUCCA Steering Committee Member. 'Instead of spending billions of dollars on death and destruction, we should be using those funds to address critical social needs in our communities, build economic vitality & family-supporting jobs that people can be proud to hold, & facilitate a just transition to a fossil-fuel and nuclear-free energy future.'
The counting will take place at four locations in New Mexico:
Taos Plaza, Taos (Thursday Oct 24: 3pm-5pm), the opening public event;
State Capital Roundhouse. Santa Fe, (Friday Oct 25: 12noon-2pm) organized with Fridays for Future and Youth United for Climate Crisis Action (YUCCA) to bring attention to the two existential threats – the climate crisis and nuclear weapons – and where they will present a letter to Governor Michelle Lujan Grisham.
Socorro Plaza Gazebo. Socorro, (Saturday Oct 26: 2pm-4pm) just before the Tularosa Basin Downwinders Consortium Candlelight Vigil to acknowledge those harmed by overexposure to radiation from the July 16, 1945 Trinity atomic bomb test.
Los Alamos New Mexico (Monday Oct 28. 2:30 to 4:30 pm) to oppose, in particular, the production at the Los Alamos National Laboratory of plutonium triggers (or "pits") for new nuclear weapons, and the proposed $13 billion investment in the nuclear weapons complex.
The action coincides with an international event in New York city where peace, climate and social justice activists will count out $1trillion in one million mock notes each of $1million face value, representing the global nuclear weapons budget for the next ten years.
The money counting event will be launched at a press conference at the United Nations on UN Day (October 24), and then continue non-stop for seven days and seven nights at the Count the Nuclear Weapons Money Hub, a public space in the art gallery district of New York City. See https://nuclearweaponsmoney.org/count-the-money/.
For more information contact:
New Mexico actions: Joni Arends, Executive Director, Concerned Citizens for Nuclear Safety. Phone +1 505 986-1973. jarends@nuclearactive.org
New York event: Susanna Choe, Count the Nuclear Weapons Money core team member. +1 914 227 6845, susanna@peaceaccelerators.org or Alyn Ware, Count the Nuclear Weapons Money core team member + 1 929 216 3653, alyn@pnnd.org