At a press briefing at the United Nations in New York today, nuclear policy experts and NGO leaders marked the start of UN Disarmament Week by launching the "Count the Nuclear Weapons Money" campaign. It's an initiative organized by an international coalition of NGOs to constrain nuclear arsenals by cutting off the budgets and investments that fund them, and redirecting the money toward impact investing for climate protection and sustainable development.
The coalition argues that nuclear weapons industry is using its leverage to promote a dangerous nuclear arms race with a mammoth price tag, undermining climate protection and sustainable development, and aggravating the risk of a catastrophic nuclear war.  So the campaign takes an unusual and promising approach to arms control by bringing new scrutiny to the financing of nuclear weapons and the lobbying power of defense contractors, and by building new cooperation between disarmament, climate action and sustainable development advocates.
"The nuclear weapons industry is powerful and wealthy, and has a stranglehold on the political process in most of the nuclear armed states," said Alyn Ware (New Zealand), Member of the World Future Council and Global Coordinator of Parliamentarians for Nuclear Non-proliferation and Disarmament. "But we can take back this power by supporting legislative efforts to cut nuclear weapons budgets, and by ending investments from our cities, universities, pension funds, sovereign wealth funds and banks in the nuclear weapons industry."
Starting today, campaign participants are publicly counting out a trillion dollars (in fake bills) to dramatize the vast amount of money nuclear weapons states are spending on maintaining, modernizing and expanding nuclear arsenals over the next ten years.  That trillion dollars could be spent instead to reduce geopolitical tensions driving increased reliance on nuclear weapons. For example it could fund the entire UN budget for one hundred years, and/or go a long way toward achieving climate and sustainable development goals.  "We need to invest billions to stop climate change," said Holger Guessefeld (Germany) of the World Future Council, who conceived the money counting actions. "This money would be available if we stopped wasting money on nuclear weapons."
The physical act of counting will take seven days and seven nights to complete, executed by core campaign volunteers with help from supportive legislators, religious leaders, youth and representatives from the nuclear disarmament, climate, peace and sustainable development movements and members of the public. For example at The Hub gallery in Manhattan's Chelsea neighborhood, the counting action is part of an interactive art installation where money will be taken from mock missiles, counted and symbolically reallocated by putting it in 17 containers representing the 17 UN Sustainable Development Goals. Other counting actions are taking place at the United Nations during UN Disarmament Week, at City Hall where members of the New York City Council are advocating divestment of the City funds from nuclear weapons and other locations around Manhattan.  In addition there will be counting actions in New Mexico, Philadelphia, London and Wellington, New Zealand. A schedule of campaign events and counting actions is posted here.
The counting of the trillion dollars was officially begun at today's press briefing at the United Nations in New York, with the first bills counted out by two core team members of the money counting: Christopher Salata, Co-founder of Peace Accelerators and Vanda Proskova (Czech Republic), Deputy Chair of the PragueVision Institute for Sustainable Security. "A trillion dollars is such a hard figure to comprehend," she said. "This is why we will physically count out the notes one-by-one, symbolically taking them from the nuclear weapons industry and reallocating them to ending climate change, eliminating poverty and supporting peace."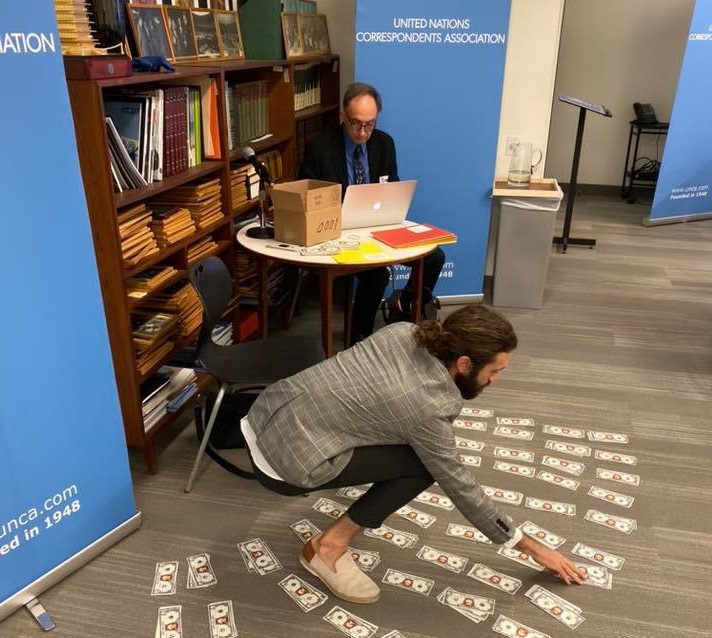 Christopher Salata starts the money counting at the UN
"If we counted this amount in $1 notes it would take us 1,900 years. If we used $100 notes it would take us 190 years," said Susanna Choe (South Korea/USA), co-founder of Peace Accelerators and another core team member. "So we created a mock $1 million note, and we're counting out a million of them during United Nations Disarmament Week."
The Count the Nuclear Weapons Money campaign is sponsored by UN observer NGOs including Parliamentarians for Nuclear Non-proliferation and Disarmament, Peace Accelerators and the World Future Council, with participation from leaders of many other civil society groups, such as Peace Action, Fridays Strike for the Future, Pugwash, Physicians for Social Responsibility, Beyond the Bomb, Religions for Peace and 350.org.  Among the campaign's many supporters are former UN Undersecretary General Ambassador Anwarul K. Chowdhury, outgoing President of the UN General Assembly Maria Espinosa, Nobel Peace Laureate Mairead Maguire,  and many others.  A compilation of supporters and their statements is posted here.
"If the United States wants other countries to reduce their nuclear arsenals and restrain their nuclear war plans, we must take the lead," said US Senator Edward Markey, author of the Smarter Approach to Nuclear Expenditure (SANE) Act and Co-President of Parliamentarians for Nuclear Non-proliferation and Disarmament. "Instead of wasting billions of dollars on dangerous new nuclear weapons that will do nothing to keep our nation safe, we should preserve our resources."
"Climate change, the militarization of space and cyberspace, the fight against inequalities and new technologies of artificial intelligence: those should be the priorities for our governments," says General Bernard Norlain (France), Vice-président d'Initiatives pour le Désarmement Nucléaire and former Air Defense Commander and Air Combat Commander of the French Air Force. "It is therefore indecent to see that it is for nuclear weapons, and that colossal funds are spent every year, neglecting the most important dangers to our security."
"In the present climate of consistent insecurity to which the continuing nuclear arms race to a large extent contributes," said Sergio Duarte, president of Pugwash and former UN Undersecretary General for Disarmament Affairs, "total global expenditure in instruments of war stands at higher levels than the estimated resources that would be needed for the implementation of the Sustainable Development Goals."
"Count your blessings," said Ambassador Libran M. Cabactulan (Philippines), President of the 2010 Nuclear Nonproliferation Treaty Review Conference.  "Count the nuclear weapons money with the hope that soon that kind of money may be used for human prosperity and survival, not annihilation."
"The true cost of nuclear weapons is hidden from the public by the elite groups that control and benefit from our dangerous nuclear policies," says Joseph Cirincione (USA), President of the Ploughshares Fund. "It's time to bring these costs into the light of the day."
"For too long nuclear weapons have been treated as a wonder drug for global security," says Cecili Thompson Williams (USA), Executive Director of Beyond the Bomb. "But these barbaric and expensive Cold War relics fail to address 21st century challenges."
"Just possibly we have enough nuclear weapons," said 350.org founder Bill McKibben. "Just possibly we could spend the money on schools and hospitals and food for the hungry."
#   #   #
For more information of the Count the Nuclear Weapons Money campaign, visit www.nuclearweaponsmoney.org/count-the-money/  Videos of the counting actions and other campaign events and news are being posted on YouTube and www.facebook.com/CTNWM/ and